2021 Chili Cookoff Overview
This year at Tornado's annual chili cookoff, we enjoyed 17 different chilis, welcomed over 130 judges, and raised $1,500 towards Habitat for Humanity!
The 14th annual chili cookoff was held in Walton Hills, OH. We had a large variety of gift baskets for raffle, ranging from a wine lovers basket to TaylorMade golf clubs.
We had a tremendous variety of chilis this year featuring Turkey, Chicken, Deer, Vegan, and even Lamb!
Every chili chef shares that they have their own secret ingredient that they feel will pull votes in their favor. Ranging from jalapenos to red peppers, cocoa powder, and even beer.
One piece of advice we give to participating chefs is to remember they are trying to appeal to a wide range of tastes. We recommend to not stray too far to the edges of the bell curve in terms of spiciness. Another thing to note is that many people have a traditional notion of chili with respect to beef and beans. However, we have had vegan chilis win in years past!
Winning Chili Recipe
The 2021 Winning Chili was "Winter's Fire" by Bill Botkin. Read more to see his strategy and winning chili recipe!
Bill Botkin, from Independence Office Supply, first entered the Tornado Chili Cookoff in 2019 so this year wasn't his "first rodeo." His entry that year was a white chicken chili. It was a solid entry but finished in the middle of the pack.
The entries at the Cookoff are typically very close. Perhaps he had the winning recipe but just needed to tweak the implementation.
Was he only missing one or two ingredients? Did he just need a bit more kick? Or was it too spicy? It is quite common for the chefs to "second guess" their seasoning. What may have been fantastic the night before can shift (for better or worse) after cooking for several hours.
Having a special differentiator has proven very successful as the last three champions were a Vegan Chili, a White Turkey Chili and one featuring Deer meat. However, Bill reasoned that perhaps he may have narrowed his potential fan base with his specialty entry.
This year he decided to change it up and go traditional with a tomato-based sauce and a mix of ground beef, Italian sausage, and bacon. Throw in beans, peppers, celery, onions and you have his very comforting and delicious "Winter's Fire."
The new plan paid off and Bill captured the Golden Crock as the 2021 Tornado Cookoff Champion.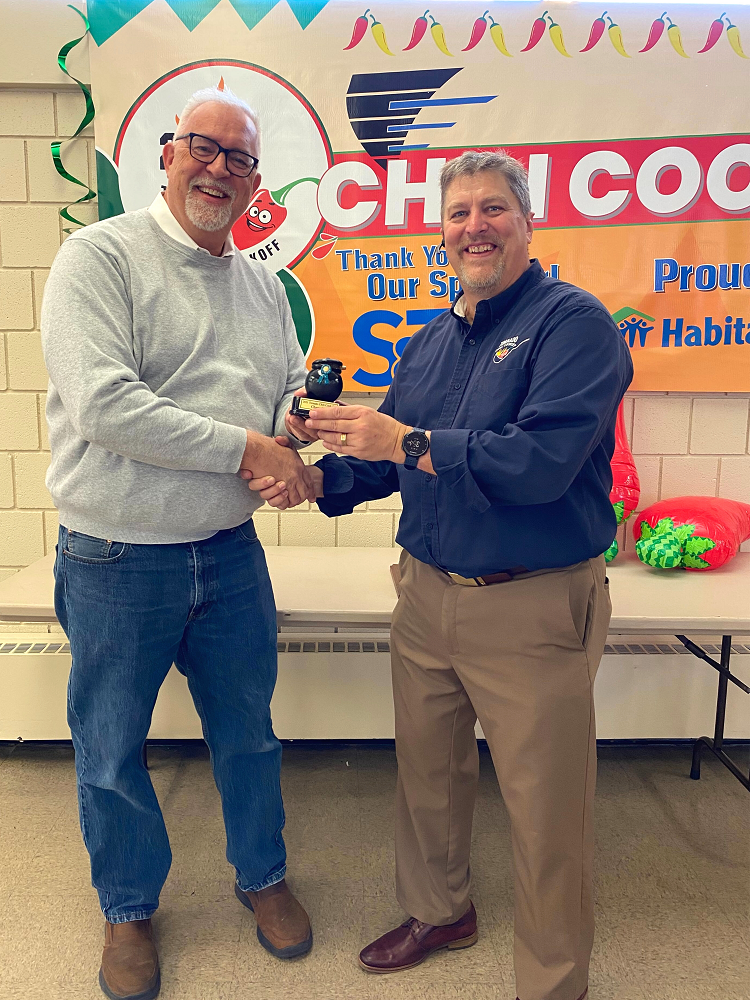 Chili Cookoff Runner Ups
Runner up was first-year chef Gary Cerasi (Creative Business Strategies) with "Chili by I Dream of Jeannie."
Third place was perennial favorite Sumaya Claridge (Tornado Technologies) with "Sabor A Barrio."
We are proud to have our sponsor S&T Bank. We want to say thank you to Iconium Networks for the Ice Cream Truck and to Storehouse Tea Company for providing iced tea.
See you for the 2022 Annual Tornado Chili Cookoff next year!
About Us
As a custom software Cleveland company, Tornado Technologies offers a wide range of solutions for businesses large or small.
Whether it's mobile app development, web app development, material optimization, or legacy application support, the Tornado Team is happy to work with you and your business.